What We Do
Kiwanis International TERRIFIC Kids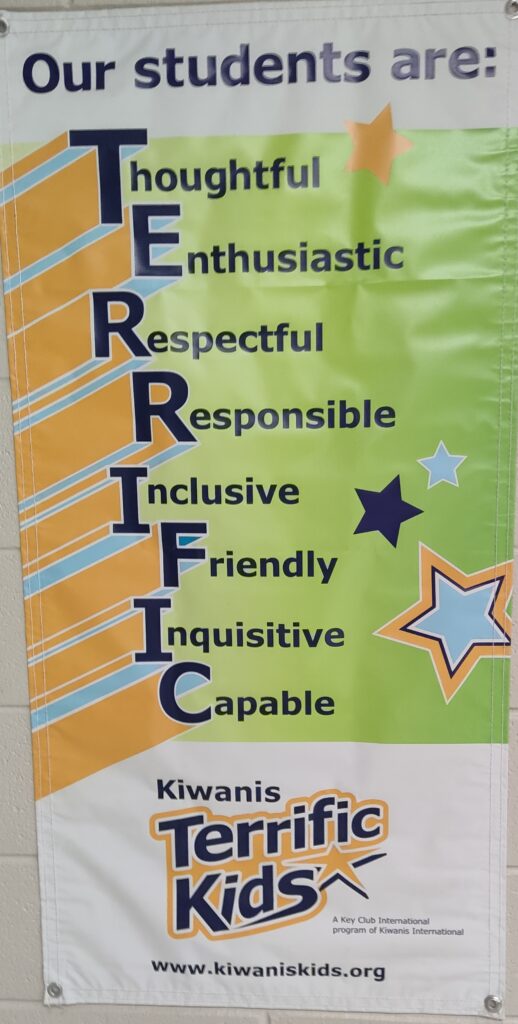 Our Kiwanis club recognizes, supports and encourages the kids, through example, so they feel empowered to do great things in their communities. Terrific Kids is a student recognition program that promotes character development, self-esteem, and perseverance. Students work with their teachers to establish goals to improve behavior, peer relationships, attendance, and school work. TERRIFIC Kids are Thoughtful, Enthusiastic, Respectful, Responsible, Inclusive, Friendly, Inquisitive, and Capable! On March 15, 2023, 102 kids received "I'm a Terrific Kid" badges and Kiwanis International Certificates of Achievement. One male and one female student is selected at year end by a random drawing and each is awarded a bicycle and helmet provided by our club. We sponsor the following Kiwanis Terrific Kids club:
Reading With Kids
Weekly, during the school year, our club volunteers to read with second graders to help them improve their reading skills. A volunteer usually works one-on-one with a child, but sometimes works with two kids at a time depending on need. The goal is to help these kids achieve reading proficiency at the 3rd grade level. During the first few grades, they Learn to Read and then they begin to Read to Learn! We currently read with kids at:
King Springs Elementary School on Wednesday mornings
Smyrna Elementary School on Thursday afternoons
Kiwanis Key Club
The Key Club is the oldest and largest service club for High School students in the world. It is a student-led organization that teaches leadership through practicing and promoting service to others. Key Club has over 265,000 members and has clubs on more than 5,000 high school campuses in 32 countries. There are 150 Key Clubs in the Georgia District with over 5,000 students. We are currently sponsoring the following Kiwanis Key club which is in Division 4 consisting of 13 clubs and the leader is a member of our club:
Key Leader
We actively support the Kiwanis Key Leader program. It is a weekend leadership event for graduating 8th grade and high school students. The mission of the program is to inspire students to achieve their personal best through service leadership. Key leader has served more than 34,000 students at 693 Key Leader events in 40 US states. Jonquil City Kiwanis sponsors the attendance of local middle and high school in March of every year to the Georgia Key Leader event at the Georgia FFA/FHA Camp on Lake Jackson in Covington, GA. The 2023 event has been postponed till September, 2023 and you can view information at the following page.
Kiwanis Builders Club
The Builders Club is the largest service organization for Middle School/Junior High School students. We have sponsored Kiwanis Builders clubs in the Smyrna, GA middle schools.
Georgia District-Sponsored Projects
Following is a list of some of the projects sponsored by the Georgia District. As a club in the Georgia District, we support and participate in many of these projects. For details concerning these projects, you can visit: GA District-Sponsored Projects
AUDITORY-VERBAL CENTER: "BUCK-N-EAR": Provides a family-centered and holistic approach to supporting and improving the lives of the deaf and hard of hearing. All funds raised through this "Buck-n-Ear" program helps pay for Auditory-Verbal Therapy sessions for families who are underinsured or can't afford the services
GEORGIA DISTRICT ART & MUSIC SHOWCASE: This showcase provides students with the opportunity to demonstrate their talents in a competitive atmosphere with students from across the state. Students have received certificates, trophies, awards, and scholarships in recognition of their talent and efforts.
KEY LEADER: This is a weekend experiential leadership program for today's young leaders aged 14 to 18. This life-changing event focuses on service leadership as the first, most meaningful leadership-development experience. A Key Leader will learn the most important lesson of leadership—it comes from helping others succeed.
FERST READERS: Ferst Readers mission is "strengthening communities by providing quality books and literacy resources for children and their families to use at home during the earliest stages of development." Children in the Ferst Readers literacy program receive a bookstore-quality, age-specific book and resources mailed to them at home every month until their fifth birthday. This access to print helps create a language-rich environment in the home.
GEORGIA DISTRICT KIWANIS FOUNDATION, INC.: As a non-profit foundation, this corporation allows Georgia Kiwanis to work together to fund efforts that might be beyond the financial ability of individual Kiwanians and individual Kiwanis clubs. The Georgia District Kiwanis Foundation has funded many worthwhile efforts that aid the youth of the State of Georgia, such as: scholarships to students who are members of Georgia Circle K or Georgia Key Club (matched by the Kiwanis International Foundation), scholarships to student winners of the Art and Music Showcase, funding for training at Kiwanis International for Key Club and Circle K leaders, and purchase of special recognition materials for the Georgia District of Kiwanis International.
TOMORROW'S LEADERS: Tomorrow's Leaders helps pay for the District Board for both Key Club and Circle K for travel and registration to conferences and conventions. Tomorrow's Leaders also offers scholarships to Kiwanis Youth members in Georgia.
KIWANIS INTERNATIONAL CHILDREN'S FUND: The Georgia District supports this fund directed by Kiwanis International. With combined funds from all clubs and individual Kiwanians worldwide, the Kiwanis Children's Fund conducts national and international projects on behalf of Kiwanians worldwide. Such projects include: Assisting in the Eliminate Campaign, providing high quality medical equipment worldwide, providing assistance to the Eleanor Roosevelt Institute to help fund research in determining the cause of leukemia, provide financial assistance to Key Club and Circle K, provide assistance for the Kiwanis World Service Medal, provide assistance for the "Kiwanis In Action" video, and much more.
Are you ready to join us? Please attend one of our weekly meetings or Contact us